Artist in Residence - Vanessa Stone
October 2023 to March 2024

We're excited to announce our second Open Doors Artist in Residence - Vanessa Stone. Vanessa's studio will be open to for visitors to see her work, meet her and try some of her techniques.
Vanessa's artwork
Since 2003, Vanessa has worked as a cut paper collage artist creating colourful, multi-layered hand cut collages. Through cutting away and paring down, Vanessa captures the essence of a place or the nature on her doorstep. For her, the notable buildings of our towns are witnesses to the many lives that have lived through them and her townscapes express that deep connection we have to the built heritage around us.
Handmade processes are at the heart of Vanessa's practice; her latest work uses hand stencilling and stitching onto linen and is taking her back to her textiles roots. She originally trained as a carpet and rug designer on the UK's only degree course for this, and made banners, wall hangings and embroideries before turning to papercutting. She takes inspiration from how we might connect with objects from the past. Vanessa uses sustainably sourced end-of-roll linen to make new artworks inspired by 17th century folk art carvings and medieval artefacts.
Seeing and making art with Vanessa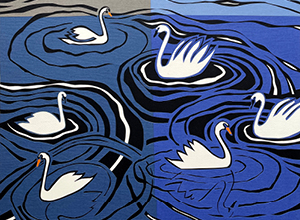 In this residency, Vanessa will work from unusual artefacts she has chosen from the museum's collection that will be on display in the studio. Her "Marvellous Miscellany" will be the source of inspiration to make new artwork using papercutting, hand stencilling and embroidery. Visitors can watch Vanessa as she creates this and will be invited to have a go at the processes she uses in the studio.
Vanessa has extensive experience of running papercutting and collage workshops for all ages, in all sorts of places from cafés to book fairs and arts venues.
Throughout her residency, Vanessa will be offering workshops to a range of groups across the district. Would your community or group be interested in a free art workshop with Vanessa? If so, please contact Tom:
Email: tom.cable@newark-sherwooddc.gov.uk
Mobile: 07355 675101
About Vanessa
Vanessa lived for a long time in Letchworth Garden City where she is known for her distinctive collages that celebrate the iconic Arts and Crafts buildings of the town. She has now lived in the East Midlands for over five years and has started to capture the fine buildings of Newark in a series of cut paper collages. Vanessa's work has been widely exhibited in group and solo gallery exhibitions in Cambridge, Salisbury and Letchworth. Her work is featured in private collections in the UK, Netherlands, USA and Finland.
Instagram: @vanessastoneartist
Facebook: https://www.facebook.com/vanessastoneartist/
Email: vanessastoneinfo@gmail.com
Visiting the studio
The artist's studio is on the top floor of the National Civil War Centre and is accessible by stairs and lift. Seating is provided in the studio.
The studio is open Tuesday to Saturday, from 10am to 4pm. Vanessa will usually be working in the studio Wednesdays, Thursdays and Fridays from 10am to 3pm and on the third Saturday of the month. On Tuesdays and the occasional day when Vanessa is working elsewhere, visitors will still have access to the studio to see her work in progress and have a go at an art activity that will be left for visitors to enjoy independently.
For more information and updates, please follow us on social media!