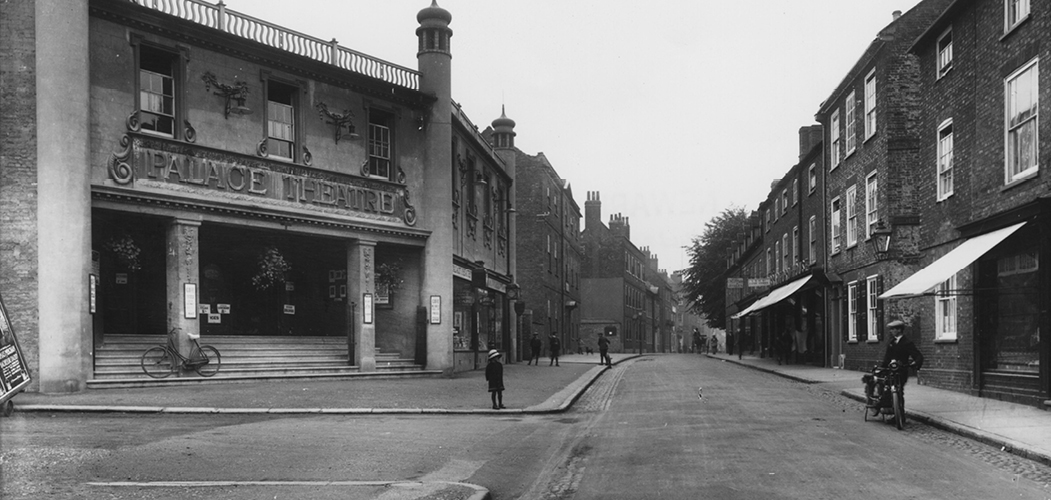 Our Story
On Monday 5th July 1920, this stunning venue opened its doors as a picture house built by local entrepreneur Emily Blagg, who, in a time when the suffragettes were fighting for female independence, had managed to carve out a successful career in property development. Having opened Newark's first cinema, the Kinema on Baldertongate, in 1913 as well as building The Park and Lime Grove, she made the decision to expand on her small empire and knocked down the Chauntry House to create her vision of the perfect art deco theatre.
Its Neo-Byzantine style was exotic, upmarket and fashionable and from its first screening, a version of King Solomon's Mines, it quickly became a popular haunt for the residents of Newark. Blagg was a shrewd businesswoman and, although she opened the Palace as a cinema, she made sure to fit it out with a sizeable stage and orchestra pit to allow for the possibility that the town's appetite for film might wane. And sure enough, within the year a strong programme of live events was in place.
Since then, a slew of famous names have tread the boards at the Palace. Sir Donald Wolfit began his stage career here in 1921 and returned with Miss Marple herself, Margaret Rutherford, and John Clements a decade later. In 1927, prima ballerina Anna Pavlova graced the stage and in 1950 Cliff Richard had Newark rocking away within its walls.
The theatre has given more than entertainment to the town over the years; its spectacular minarets proved the ideal lookout post for spotting fires during the Second World War.
Since then, the Palace has gone through many changes but has survived threats of closure thanks to the people of Newark, who've rallied on several occasions to save it. While the cinema is no more, the Theatre continues the tradition of hosting fantastic entertainment and bringing famous names to the town, which in recent years have included Jason Manford, Jimmy Carr, Joan Armatrading, Jason Donovan and more.
National Portfolio Organisation
The Palace Theatre, along with the National Civil War Centre and Newark Castle as Newark and Sherwood District Council's Heritage and Culture provision, has been made a National Portfolio Organisation for 2023 to 2026.
We are very excited to get to work using the £927,000 of funding to deliver inclusive, ambitious and exciting cultural services and events, increasing creative opportunities for young people and under-served groups.
A key aim is seeking to break down barriers for access to culture including language, deafness and socio-economic background. We also plan to work collaboratively with young people to understand their cultural needs as well as offering more low-cost activities to improve access during the Cost of Living crisis.
Find out more including current opportunities to get involved on the National Civil War Centre's Open Doors page.
Our Past, Your Future
The Our Past, Your Future Fund is a legacy scheme set up in celebration of our 2020 centenary as a thank you to the local community. The scheme offers funding to local young people aged between 16-25 who are looking to pursue a career in the arts, whether performing, writing, directing or technical.
Our wonderful partners in the project, Tallents Solicitors, said: "The Palace Theatre has been an important part of the Newark community we all live in for over 100 years, with an exceptional pedigree in both welcoming, encouraging and inspiring creative talent in our market town. Tallents Solicitors is very proud to have been a Principal Sponsor of the Palace Theatre Newark for many years, and to be their Centenary Sponsor as they continue to bring entertainment to our community.
"With our continuing support, we are delighted to be able to help the Palace Theatre Newark now reach out to the local community and encourage applications from anyone in need of a grant to enable them to become involved in the wonderful world of the theatre and performing arts.
"We look forward to seeing how this innovative and supportive arts programme will benefit the creative and talented people in our community as they embark on a fulfilling career in the performing arts."
Check back here for details of when applications will be opening next.