We are Heritage and Culture in Newark and Sherwood. We're delighted to have been awarded funding from Arts Council England to become a National Portfolio Organisation from April this year. Through our three-year programme, Open Doors, we aim to develop our understanding of the needs and interests of our communities, increase creative opportunities for young people and underserved groups and become a focal point for culture across Newark and Sherwood.
If you care about communities and want to be part of a thriving artistic and cultural movement in the East Midlands, we want to hear from you!
Aged 13 to 17? Be a Creative Influencer!
We are setting up a group of 13 to 17 year olds who'll work together, alongside our teams at the National Civil War Centre, Palace Theatre Newark, and Newark Castle and Gardens, to spark conversations and influence real change in our area.
Snacks and drinks will be provided at our monthly meetings and you'll get to enjoy trips on some Saturdays to museums and theatres around the UK. We work on fun projects like creating new exhibitions and events in your local community. Plus, we'll give you a museum and theatre membership, which includes 20% off in Café Nineteen20.
To find out more and for how to apply, check out our info pack: Creative Influencer Pack (PDF File, 2,705kb)
Members of our team will read through your applications carefully and get back in touch with you shortly after the closing date of Tuesday 27th June at 5pm.
Could you be our Community Curator?
We're looking for an experienced freelance curator with a background in participatory practice and community co-curation, to develop and deliver a series of touring events and activities across Newark and Sherwood which will connect people with their heritage, increase access to our collections and improve cultural engagement by breaking down barriers.
To find out more and how to apply, please take a look at our Community Curator Brief (PDF File, 2,520kb).
Applications close at 5pm on Friday 16th June 2023.
Artist in Residence - The Curious Puppeteer
May - September 2023
We're excited to announce our first Open Doors Artist in Residence - Samantha Jayne, also known online as The Curious Puppeteer.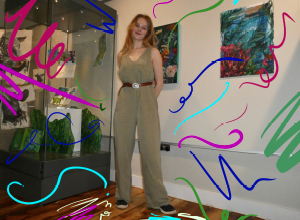 Samantha is a multi-media artist specialising in immersive technology. In her art practice, she combines traditional painting with Virtual Reality (VR), where she creates expressive acrylic paintings that are photographed and transferred into a VR headset. They are then transformed into a 3D immersive experience allowing the audience to lose themselves in her work.
You are invited to join Samantha to create a VR experience exploring the turbulent 17th century. She'll be running VR workshops, and fun drop-in creative sessions exploring different artistic processes, both here at the National Civil War Centre and in your community.
In addition to these exciting opportunities for you to have a go, Samantha is creating a VR experience for the National Civil War Centre about the remarkable advancements in modern science and inventions during the 17th century. Throughout this residency, you will have the opportunity to see her creative process and the final product.
For more information and updates, please follow us on social media!
About Samantha
Samantha grew up on a dairy farm in Leicester, with her parents and older sister, where she helped out whether with feeding the calves, tractor driving and running after escapees! Samantha's always had a passion for art which has remained a constant throughout her life. Samantha went to The University West of England in Bristol to study Illustration, where she went on to specialize in Virtual Reality. Samantha advocates for youth voices and spends time volunteering for arts-based charity The Mighty Creatives, to help young people across the Midlands.
Website: TheCuriousPuppeteer.com
Email: thecuriouspuppeteer@gmail.com
Visiting the studio
The artist's studio is on the top floor of the National Civil War Centre and is accessible by stairs and lift. Seating is provided in the studio.
The studio is open Tuesday to Saturday, from 10am to 4pm. Samantha will usually be working in the studio Wednesdays, Thursdays and Fridays. On Tuesdays and the occasional day when Samantha is working elsewhere, visitors will still have access to the studio to see her work in progress and have a go at an art activity that will be left for visitors to enjoy independently.
Samantha will need to be in the studio to help visitors use the VR headsets, so please check here for updates in case Samantha is working off-site on a Wednesday, Thursday or Friday.
We will endeavour to list any dates that Samantha is not due to be in on a Wednesday to Friday here.